We went to get our tree on Sunday...it was probably one of the most fun things we've done so far as a family of six...call us crazy, if you want, but it was actually fun!! (despite Jack crying from the cold and the babies running slight fevers- Hailey made up for it all by saying, "you can call me Bob the tomato" right as we got to the tree farm- think I giggled about that all day)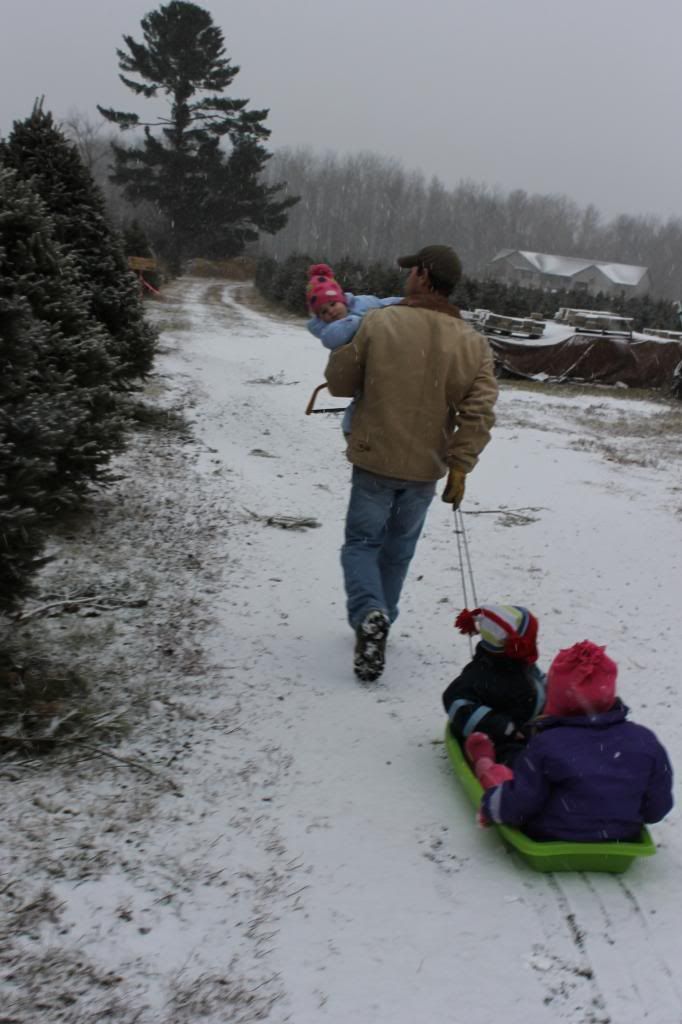 look at this awesome and incredibly tough Daddy...carrying a baby and a saw all the while pulling 2 kids on a sled!
I'm not quite that awesome- I just posed with the sled ;)
Hailey picked out our tree and Maysen and Maelle agreed that it was the one...it's kind of small, but I think the smaller the better for us this year- if it falls there will be less "tree" to squish a baby or kid!
Hailey then got distracted catching snowflakes on her tongue...poor Jack was cold already. I swear this kid needs a little more "fat" on him or something, because he is always shivering and always cold!!
we have so much fun with these kids...they make us laugh so hard. Someone's always moving or going or doing something and 1/2 the time we don't even catch it until we see the pictures :)
looks kind of like Jack got the best ride :)
our beautiful family in front of a different christmas tree- we're so "lazy" that we didn't wanna take it back out of the truck to take a picture with, so we just stood in front of a different tree :)